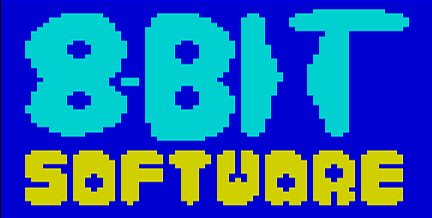 The BBC and Master Computer Public Domain Library
On Line Magazine
Articles and software submitted to 8BS, not included in the disc based magazine Latest First look for UPDATED too!
15/09/2010
BBC Mode 7 style font
by Ollie Brerton
13/07/2010 Article about the amazing
DataCentre
by Mark Haysman
04/12/2005 Thanks to Jeremy Grayson for providing a recording of the BBC Election Night Special 5/5/2005. At about 0200 David Blunkett was shown losing 6% of his majority to our very own Jonathan Harston. Snippets here of the cuts to Jonathan (Second from the right, hardly recognisable in his 'scrubbed up' form, very impressive).
Large Video (10 megabytes)
.
Small Video (3 megabytes)
25/11/2005 Dave Edwards A new game from Dave Edwards
You're Alan Partridge
. Due for release next year, here is a taster
19/08/2005 John Simpson
65Dis a RISC OS game disassembler with Chuckie Egg disassembly example
23/07/2005
Power connections for a disc drive lead
13/02/2005 Master 512 Recognised disc formats
technical information
16/01/2005 Jon Welch BBCTape. Transfer tapes to a disc image using your sound card. Full information within
this download
14/01/2005
A Month in the life of 8BS
. Written in late 1994. Placed back on the 8BS website after a bit of a rest
05/09/2004
GoMMC
. An amazing new piece of hardware by John Kortink that replaces floppy and hard discs using a Multi Media Card
11/06/2004 Keith Howell Thanks to Keith for sending this
Master 128 Review
27/02/2004
A list of ALL Acorn 8 bit Machines
31/01/2004 C.Duckworth
A disc of programs
submitted by Charles Duckworth. Chemistry software. The disc contains many programs written for Acornsoft around 1981. Some of the programs need a bit of attention and I would appreciate it if someone could fix them and maybe put in a decent menu for the disc. There are several versions of the same program, some that were sent to Acornsoft, some that were development versions. Directory B contains software modified for Acornsoft. Directory G contains pre Acornsoft versions
19/01/2004
Star Wars demo
from GLM 5. Recorded from the BBC emulator to an AVI movie. There are several moments I have left in the AVI where the screen is black as the BBC loads in the next demo
18/01/2004
Bones 1
and
Bones 2
demos as AVI movies. Converted by C.J.Richardson
07/01/2004 Nick B
Acorn Application Notes
in Adobe Acrobat PDF form
05/01/2004 Chris Richardson Disk User Animations as AVI
Large File
Small File
(Right click on the link and 'Save As' to save to your hard disc)
03/12/2003 Chris Richardson
Mullard Colour Coding for Capacitors
10/11/2003 Chris Richardson
It has been a long time. How about a BBC gathering?
04/11/2003 Jason Watton
Omnidisk
a disc imaging utility
15/10/2003 R.Harker This is a
noughts and crosses game
I found on my BBC hard drive. Sent by Richard years ago and never used.
08/09/2003 Raf Giaccio Y2K Fix with ADFS *WIPE and ADFS Utilities
ROMS
Well worth a look at
04/09/2003 Chris Richardson Repairing a Master 128
AVI
. A morning's work compressed into 8 minutes. 15 meg
01/09/2003 Chris Richardson Fitting a
Genlock Board
into a Master 128
22/08/2003 Philip Greenland Windows GUI
BBC Character Generator
. Includes uninstaller. Draw your character and then click the generate button. The VDU code appears in the box below
02/08/2003 Sebastian Mennicke
A developing
BBC Basic emulator
29/05/2003 David Robinson (K5K)
Beebview
. A neat utility to view BBC graphic files
21/05/2003 Benjamin Ryves The finished
Repton game
for the TI-83 Plus Graphing Calculator
28/03/2003 Benjamin Ryves
Repton gif
I'm writing the game in Zilog z80 Assembler (a modification of the Intel 8080) that could be bought as an addon to the BBC (yes, it's the same chip - also used in the Nintendo Gameboy and the ZX Spectrum z80). It is one of the first games to implement greyscale (the calculator screen is purely black and white - flickering pixels on and off produces the greyscale effect). Lots of people write odd games for their calculator (www.ticalc.org is a testimony to this). Only the other day, Wolfenstein83 was released - a 3D Shooter in under 19K on an 8-bit 6MHz machine! I upload all my stuff onto www.calc83plus.netfirms.com Ben Ryves
23/11/2002 Alastair Seggie
ROM Box Lead
20/11/2002 Mr Angry I was sent
this
by someone who had a bad experience with..... Well, see for yourself
09/11/2002 Lee
Ebay Masterpiece
19/10/2002 Richard Hall
Repairing The Legs on a Board
13/10/2002 Alastair Seggie
Starturn Lathe Nightmare. HELP!
10/10/2002 Mark Bush
A New and FREE Y2K Fix
For the Master
07/10/2002 John Ilsley
Electronics Articles from John Ilsley
06/10/2002 Gary McCallum Nokia Repton 3 Ring tone Tempo: 112 388*, 2, 3, 2, 19, 0**, 38, 2, 3, 4, 59, 0**, 48#, 5, 6, 5, 4#, 5, (hold 4)99#, 0**, 788, 6, 5, 6, 5, 4, 3, 4, 3, 2, 3, 2, 1, 2, 5**, 6, 1*, 2, 3, 2, 1, 6**, 199*
HEAR IT IN MP3
This by C.J.Richardson: Motorola Repton Ringtone Tempo 1 - means on bottom row. If there is no - then it is on the middle row: a1 g-1 a1 g-1 f-2 R2 a1 g-1 a1 B1 c2 R2 C1 c1 d1 c1 C1 c1 d3 R2 c-1 d-1 f-1 g-1 a1 g-1 f-1 d-1 f-4
HEAR IT IN MP3
OK, a bit short, but I only have room for this on my model
03/10/2002 Jon Hogeslag
Xcat Catalogue Extender
(TBI-174)
12/09/2002 Philip Mulrane
Ample Patch
. A utility to patch the Ample ROM enabling the use of any of the Ample Software with any ROM
10/06/2002 James Watson
Rocket
. New BBC Game. Info from The Admiral: A sideways scrolling game. Best on a real BBC. The scrolling is as good as rocket raid and there is no flicker with the rocket even at the top of the screen, except on BBC emulators. For every screen roll the landscape will take about 60 bytes or less depending on how much detail you want. I hope in the long term this game will develop into the same professional level as rocket raid and Nevryon. I hope to have multi-load levels so I can keep it in mode 2 and include a lot of graphics and detail.
08/05/2002 S.Flintham
Joining 2 BBCs
.
06/05/2002 The Admiral
PC Arcadians
ver1.1
13/04/2002 Ian Wolstenholme
Flashing LEDs
Thanks to Ian for this article on how to make the BBCs LEDs flash
08/04/2002 The Admiral
PC Arcadians
ver1.0 This is an ongoing project to recreate this classic bbc micro game for the PC. The game will develop into two versions, an identical BBC micro version and a jazzed up PC version. Any feed back good or bad is welcome. Email:- admiral6502@hotmail.com
01/04/2002 G.Dyer
Tape Load Reliability on an Electron
Updated
18/05/2002 A Word Document Describing the Modifications
10/02/2002 P.Turnbull
Amp Connectors (Disc Drive PSU)
12/11/2001 C.J.Richardson
The BBC Mode 7 Font
15/10/2001 Glyn
FDC Info
26/09/2001 Steve Fewell
BASIC 4 ROM Routines
08/04/2001 Angus Duggan
Home Made Eprom Programmer. Plans and Software
20/03/2001
Questionnaire
(humour)
16/03/2001 C.J.Richardson
Cheating on a BBC emulator
08/03/2001
Article from the Guardian about Acorn and the BBC Micro
01/03/2001 C.J.Richardson
Vine Master Overlay Track negative and info
26/02/2001 C.J.Richardson
Cheat for Citadel 2
02/02/2001 Nick Payne
Postage Problems
16/01/2001
Humour
21/11/2000 Various
Repton Passwords from TBI-45
4/09/2000
Radio 4 Program about the BBC B
. 3 megabyte mp3
20/08/2000 C.J.Richardson
Keyboard Repair
12/03/2000 Alasdair Davis
Comal
04/03/2000 Colin Culpitt-Smith (K2B)
Master 128 Y2K Fix
13/02/2000 C.J.Richardson
BBC RGB to SCART socket wiring
20/01/2000 Martin Hodgson
BBC Emulators on the Acorn
28/12/1999 Edmund Burke
The Demise of Acorn
24/12/1999 Edmund Burke
Master 128 Y2K bug fix
08/12/1999 C.J.Richardson
Removing a ROM from a BBC
18/10/1999 Edmund Burke
Cyber Roast
15/10/1999
Elite
. The most popular BBC game
02/10/1999
Fitting an 8271 DFS
to a tape only BBC
13/09/1999
Price list from WeServe
dated 14/03/1986
28/08/1999 Stuart McConnachie
Converting a PC mouse to work on a BBC
03/08/1999 C.J.Richardson Why, when the BBC is undoubtedly the best computer ever made, did Acorn lose its grip and let it all go down the toilet? Invitation for discussion.
Here are the replies!
19/07/1999 Chris Hatton (Darkmoon) A nice
AVI
of the BBC owl
19/07/1999 Chris Hatton (Darkmoon)
Firetrak sounds
12/06/1999 C.J.Richardson
User Port Ideas
. 6 Zipped bitmap scans of various plans that I have made of things I have done with the User Port. Input, Output, Test bed, Robot and test beds
09/06/1999 Martin Hodgson
Using an 8BS CD on an Archimedes
05/06/1999 Mark Usher
Creating game maps
Includes downloads of Castle Quest and Citadel maps. Not ordinary maps! Pasted together screen dumps
02/04/1999 C.J.Richardson
Using a CD Player on a BBC
02/04/1999 Martin Hodgson
Using Internet Resources on an Acorn Machine
19/02/1999 C.J.Richardson
I want to fit a DFS to my tape only BBC I want to transfer BBC to PC
.
16/02/1999 C.J.Richardson
Games Solutions
.
21/08/1998
Emulators
1998 ish Mike Mallett
Internet Help